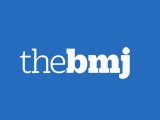 The BMJ has a new name and logo (The BMJ) and a new website design with a new address (thebmj.com).
Last year saw BMJ Group change its name to BMJ. Following this, the new name of BMJ's flagship journal is The BMJ.
Changes to The BMJ's website mean the new design is completely responsive. It is hoped this will provide a better reading experience, encouraging more online browsing across different sections of the journal.
There is a new "for authors" tab making it easier for readers to submit manuscripts to be considered for publication.
The new logo (from BMJ to The BMJ) can now be adapted more easily for other digital resources and the print issue and iPad app of The BMJ will undergo further design changes in the coming months.
Editor of thebmj.com, David Payne, said: "We have made this change because almost a quarter of [our] traffic now comes from mobile devices. We hope our core audience of UK and international doctors and academic researchers find The BMJ easier to browse online."