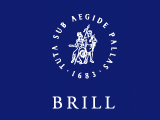 Brill is proud to announce that the Vrije Universiteit Amsterdam has decided to join Brill's Open Access Membership Program. This program allows VU authors to submit their paper for Open Access publication in the Brill journal program with two options to choose from.
They can either choose to submit their paper to one of Brill's broad full Open Access journals: Brill Open Humanities, Brill Open Social Sciences, Brill Open Law, or Brill Open Biology, with Open Access fees fully covered by the membership program. Or they can opt for submission to one of Brill's 200+ hybrid journals, the Open Access fees of which are partially sponsored by the membership program.
Brill Open offers increased online visibility and free accessibility, rigorous peer review and editorial support, full author and funder recognition, high-quality publication standards, and compliance with OA requirements. For more information please visit our website: brill.com/brillopen
"The VU University is a strong supporter of Open Access and is therefore pleased with the pilot the University Library arranged  with Brill. This makes it possible for our scientific staff to publish for free in one of the full Open Access journals or with a discount in one of the Brill hybrid journals", says Josje Calff, VU University.
"We are extremely happy with the decision of the Vrije Universiteit to join our Open Access Membership Program. With the emergence of Open Access in HSS, we need to offer our institutional clients and their scholars a way to make the transition to Open Access . The Brill Open Membership Program offers various options to meet the financial requirements of publishing in one of our new full Open Access journals or in Open Access in one of our many 'traditional' journals", says Sam Bruinsma, Senior Vice President Business Development at Brill.
For more information, please contact Dominique de Roo or openaccess.ub@vu.nl.