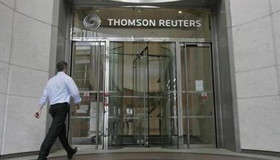 Thomson Reuters 2012 IP Solutions Customer Conference: The Intellectual Property & Science business of Thomson Reuters, the world's leading source of intelligent information for businesses and professionals, today announced the addition of 21 million more scientific journal articles in Thomson Innovation, making it the undisputed platform leader for IP intelligence and collaboration. Today's conference session, Prior Art Searching: See the Whole Picture, will discuss the benefits and importance of the non-patent collections which now comprise 85 percent of the World Intellectual Property Organization's (WIPO's) minimum documentation requirement.
Access to patent content, scientific journals, conference proceedings, business data and news information are critical in the quest to determine if an idea is unique and has potential for further development. The latest Thomson Innovation enhancements make this quest much easier and more complete, integrating a deeper scientific literature back file and access to full text of journal articles within one, unified platform.
"A thorough prior art search needs to include more than just published patent applications and grants. Thomson Innovation's new scientific literature content fulfills that need and more as it provides researchers with an all-inclusive resource to help determine the novelty of an idea," said Cindy Poulos, vice president of Product Management for Thomson Reuters IP Solutions."With the dramatic increase in patent litigation activity over the past several years, it's more important than ever to ensure thorough prior art research to determine patentability or freedom to operate."
Users can now opt to access the entire Web of Science backfile from within Thomson Innovation, with coverage from 1898, or select entitlements grouped by date range – and links are available to order the full text of the records or connect to internal holdings and Open Access Publications. Also available are funding acknowledgement data to track funding sources or monitor a competitor's R&D, the ability to track literature citations to see who cited key scientific research and how the research was used, and a tenfold increase in the number of journal articles that can be analyzed in landscape maps, charts and text clusters.
"Our latest enhancement to scientific literature content in Thomson Innovation is a direct reflection of how customer feedback drives our product development," said Cynthia Murphy, senior vice president of Innovation and Asset Management, Thomson Reuters. "With today's technologies, it's important to highlight older research and provide more than just an abstract for effective prior art research."
The latest enhancements and content additions to Thomson Innovation are available at http://thomsoninnovation.com.