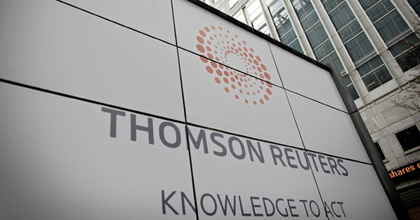 Thomson Reuters today announced the launch of Thomson Reuters CortellisTM, the next generation solution for the life sciences industry that brings together the company's best-in-class drug research and development data and the latest information management technology, to transform the way pharma and biotech professionals access and use data across the entire drug research and development life cycle.
The technology will enable companies to access data hosted within Cortellis and merge it with their own data, or with public data sources. A key element of the technology is that it will widen access to Thomson Reuters data, allowing customers access through an API (application programming interface), and a Software Development Toolkit, enabling customers to build tailored applications that meet the specific needs of their end-users.
Designed to meet the competitive intelligence needs of pharma and biotech companies of all sizes, Cortellis includes Thomson Reuters trusted competitive intelligence content, now combined with powerful new tools to support more detailed analysis of the drug pipeline and licensing opportunities.
The solution offers up-to-the-minute information on the global drug pipeline, as well as deal information, patent filings, plus breaking industry news and conference coverage, integrated with TIBCO Spotfire® visualization and analysis tools, including a pipeline competition matrix and a pipeline funnel charting tool.
"The launch of Cortellis is a major event for both Thomson Reuters and the life sciences industry," said Jon Brett-Harris, executive vice president at Thomson Reuters. "The way in which the industry wants to use and interact with our information is changing and we have responded to this demand, creating an innovative solution to facilitate this. We are confident Cortellis will exceed the expectations of our clients, offering them the prospect of faster, more informed decisions than was previously possible."
Thomson Reuters Cortellis delivers impressive search speeds and more relevant results due to an all new search engine and a highly intuitive user interface with new indexing and ontologies. The new search engine allows for rapid free-text searching, making it possible for users to search across the solution's entire drug data without the need to design complex search strategies. The Cortellis solution is also compatible with mobile devices, including smartphones and tablet devices, providing a more interactive user experience, and the freedom to search and stay informed while on the go.
To learn more about Cortellis, please visit: cortellis.thomsonreuters.com