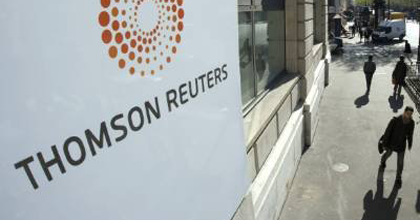 Thomson CompuMark, part of the Intellectual Property & Science business of Thomson Reuters and the global leader in trademark searching and brand protection solutions, announced a partnership with Darts-ip, a unique service provider of trademark case law data, at the International Trademark Association (INTA) annual meeting today. IP professionals using the SERION® Search Analysis and Watch tools will soon be able to conveniently access case law information as a seamless part of their workflow, further enabling them to protect brands from infringement.
"Ensuring our customers have the information they need to make real-time brand decisions is of the utmost importance to us," said Martin Burke, managing director of Thomson CompuMark. "As the world's leading trademark solutions provider, Thomson CompuMark is pleased to offer trademark professionals impressive, relevant and accessible brand case law information through our partnership with Darts-ip."
Users of the SERION search, watch and analysis platform from Thomson CompuMark will have the opportunity to view summary-level case law data from within a search or watch report. They can then opt to access more detailed data, provided by Darts-ip, via a convenient hyperlink. Relevant litigation information will be categorized by trademark and verbal similarity, class and owner.
"It was an easy decision to partner with Thomson CompuMark given its leadership position in the trademark space," said Jean-Jo Evrard, partner, Darts-ip. "As a leading provider of trademark case law information, our goal is to help IP professionals determine brand risk and availability and to make our information available in premier solutions such as the SERION platform."
To learn more about the European trademark case law information available through Thomson CompuMark, stop by booth # 123 at INTA, the International Trademark Association Annual Meeting, taking place in Washington D.C. through May 9, 2012. Or, visit: http://trademarks.thomsonreuters.com/contact-us-form.