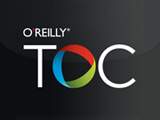 The Tools of Change for Publishing (TOC) event is celebrating its premiere in Latin America. Together with O'Reilly Media and the Feria del Libro de Buenos Aires (April 19 – May 7, 2012), the Frankfurt Book Fair will bring the conference on publishing innovation to Buenos Aires, Argentina. Pre-registration is now open at www.toclatinamerica.com.
New developments in digital publishing in Latin America are seen to be vastly changing the way books are distributed, marketed and consumed in the region. The Internet is fast becoming the source of much of the region's literary vitality and creativity.
TOC Latin America in Buenos Aires will feature a full day of high profile keynotes and panel discussions focused on standards, metadata, global digital publishing trends, case studies of innovative publishers in Latin America and consumer habits. It will highlight local and international entrepreneurs who are laying the seeds of digital development in the heart of Cono Sur. The event is geared toward creative industry leaders from the fields of publishing, communications – both local and international.