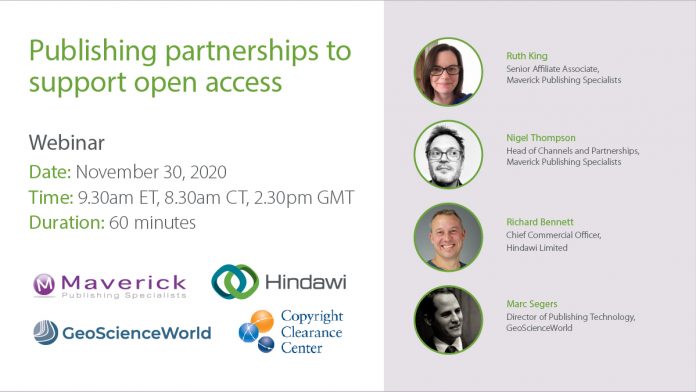 The scholarly journals market has undergone huge transformations in recent years with the biggest one being the move of open access from a small radical movement to becoming a core part of scholarly publishers' journal strategy.
In collaboration with Maverick Publishing Specialists and GeoScienceWorld, panelists on the webinar will discuss: the benefits derived from publishing partnerships when transitioning onto an open access model, the services currently offered in the market, and different publishing partnership models currently available.
Date: Nov 30, 2020
Time: 9.30am ET | 8.30am CT | 2.30pm GMT
Speakers
Nigel Thompson, Head of Channels and Partnerships, Maverick Publishing Specialists
Nigel is a highly experienced sales and marketing professional with proven business development expertise of growing research products across the digital publishing industry. With market knowledge spanning the whole of EMEA, Nigel has worked extensively with journals, books, databases and e-learning products for a variety of organizations that include Wiley, the Royal College of Psychiatrists, Thomson Scientific (now Clarivate), Factiva, and World Scientific.
Nigel's skills range from the delivery of traditional interventions to strategic planning, team leadership, project management, evaluation and the extensive use of technology to deliver solutions to an international audience. He is a graduate of the University of Liverpool and also speaks French and Spanish.
Ruth King, Senior Affiliate Associate, Maverick Publishing Specialists
Ruth is a publishing professional with deep experience of open access, change management and publishing strategy. As part of a current Maverick project, she is Managing Editor for GeoScienceWorld's open access community journal, Lithosphere.
Ruth has worked in open access publishing since its conception and brings experience from a breadth of business types, from a start-up company using a new business model to a global corporate environment. Before becoming a consultant, Ruth was Editorial Director for Springer Nature's open access journals in Health Sciences, at BioMed Central. As a consultant, she has worked closely with the world's largest professional societies and NGOs to support them to transition to open science. She is interested in open scholarly infrastructure and how open principles can strengthen research.
Marc Segers, Director of Publishing Technology, GeoScienceWorld
Marc is the Director of Publishing Technology at GeoScienceWorld. He has held a variety of key roles in the scholarly, digital publishing, including Publishing Strategist with PubFactory (a publishing platform vendor now part of KGL); Online Business Development Manager for CQ Press/SAGE Publications; Online Curriculum Developer for Apex Learning; and Editor for Holt, Rinehart and Winston (Elsevier). Marc is active in the scholarly publishing industry, having served on the board of CHORUS, the North American Steering Committee of Association of Learned and Professional Society Publishers, and as a speaker and moderator for panels at Society of Scholarly Publishing, the Charleston Conference, and the Gilbane Conference.
Marc's areas of expertise include strategic product development, project analysis, and publishing platform requirements and workflow. Marc has worked with publishers in STM, social science, and humanities and across content types including journals, ebooks, reference databases, and textbooks. With experience as both a digital publisher and technology vendor, Marc has a comprehensive understanding of digital publishing and business models.
Richard Bennett, Chief Commercial Officer, Hindawi Limited
Richard Bennett is currently the Chief Commercial Officer at Hindawi responsible for the development of Hindawi's publishing partnerships programme. Prior to Hindawi he worked for Digital Science, where he led the development and implementation of the institutional commercial strategy for a number of technology start-ups focused in the research area. He gained start-up experience whilst working for Mendeley in the role of VP of Sales. This followed various senior sales roles with Wolters Kluwer as VP Sales, EMEA (Ovid), and Springer as VP Sales first for the Americas and then for Northwestern Europe and Africa. He started his career in STM publishing with Elsevier, working with BioMedNet, Cell Press and MDL.