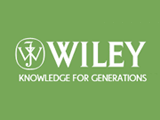 John Wiley & Sons, Inc. (NYSE:JWa, JWb) announced today the acquisition of assets from Stevenson, Inc., a leading resource for newsletters and online events in fundraising, nonprofit management, and communications. These assets include six well-respected newsletters and a variety of online events and special reports. The acquisition will enable Wiley to expand its already robust strategy for digital delivery of content to the growing nonprofit market globally.
"The acquisition of the Stevenson assets enables Wiley to increase our presence in this important category and provide practical, must-have information to nonprofit professionals," said Debra Hunter, President, Jossey-Bass, and Vice President, Wiley Professional Development.
A key title in the acquisition is The Major Gifts Report, which is now in its fourteenth year of publication. This monthly publication describes ways for nonprofits to approach organizations for large, charitable gifts, along with how to use them most beneficially. Additional titles acquired by Wiley from Stevenson, Inc. include: The Volunteer Management Report, Successful Fundraising, The Nonprofit Communications Report, The Membership Management Report, and Special Events Galore.
"We are confident that under Wiley's capable direction the newsletters and online events will continue to be successful and make significant contributions to the nonprofit sector," said Scott Stevenson, President and CEO of Stevenson, Inc.
Wiley has a 30-year history of serving the professional development and hands-on resource needs of nonprofit professionals. Through its nonprofit programs, Wiley and its Jossey-Bass brand publish more than 60 books and a dozen subscription products a year and facilitate a growing network of nonprofit leaders at www.NonprofitCommunity.com. Key authors include Bruce Hopkins, Charles Bronfman, Leslie R. Crutchfield, Heather Grant and Beth Kanter. Key subscription products include Leader to Leader, Board and Administrator, Bruce R. Hopkins Nonprofit Counsel, Corporate Philanthropy Report, Federal Grants & Contracts, Nonprofit Business Advisor and Nonprofit Management and Leadership.