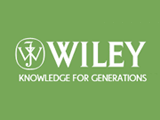 Wiley-Blackwell Announces New Publishing Partnership with The Obesity Society
Hoboken, N.J., May 8, 2012 – Wiley-Blackwell, the scientific, technical, medical, and scholarly publishing business of John Wiley & Sons, Inc. (NYSE: JWa), (NYSE: JWb), today announced that it has been selected by The Obesity Society (TOS) to publish their journal,Obesity.
Wiley-Blackwell will begin publishing Obesity, the largest society-owned journal in the field, on January 1, 2013. Currently in its 20th volume, the journal will be edited by Dr. Eric Ravussin, Director of the Nutrition and Obesity Research Center, and Douglas L. Gordon Chair in Diabetes and Metabolism, and Dr. Donna Ryan, Professor Emeritus, at the Pennington Biomedical Research Center in Baton Rouge, LA.
Publishing 12 times a year, Obesity covers all aspects of obesity, from basic research into the causes and nature of the disease to clinical research into prevention and treatment, including nutritional, behavioural, and psychological studies.
"Partnering with Wiley-Blackwell offers the combination of capabilities and vision that seem the perfect match for our journal," said Patrick M. O'Neil, Ph.D., President, The Obesity Society. "We look forward to working with them as we seek to maximize the multitude of benefits that electronic formats and mobile device capabilities make possible for more effective, efficient and informative scientific communication."
"We are delighted to have the opportunity to partner with The Obesity Society," said Jo Wixon, D.Phil., Senior Editor, Health Sciences, Wiley-Blackwell. "We are excited to add Obesity to our portfolio; as the preeminent publisher in obesity, Wiley-Blackwell is ideally placed to work with the society and its editorial team to continue the development of Obesity as a premier journal and to foster the dynamic areas of obesity research and clinical practice."