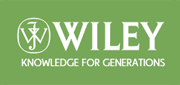 Wiley-Blackwell, the scientific, technical, medical and scholarly publishing business of John Wiley & Sons, Inc., has launched two new interdisciplinary review publications:WIREs Developmental Biology and WIREs Membrane Transport and Signaling.
WIREs Developmental Biology will focus on how single cells and fertilized eggs produce a complex, fully patterned adult organism. Edited by John C. Gerhart (University of California, Berkeley), Gail R. Martin (University of California, San Francisco) and Eric F. Wieschaus (Princeton University), this new resource is published in partnership with theSociety for Developmental Biology (SDB).
WIREs Membrane Transport and Signaling will explore the regulated transport of molecules through cell membranes and the transmission of extracellular signals by cellular receptors. Both are essential processes for cell survival and cell-cell communication. The publication is edited by Alexej Verkhratsky (The University of Manchester) and Maiken Nedergaard (Center for Translational Neuromedicine, University of Rochester).
Wiley Interdisciplinary Reviews, known as WIREs, are unique hybrids of encyclopedias and journals which emphasise the importance of interdisciplinary collaboration in research and education.
Each title provides authoritative, encyclopaedic coverage of diverse scientific fields with high-quality reviews commissioned from international expert contributors. Each review article is fully citable and qualifies for abstracting, indexing and ISI ranking.
The WIREs model is built around four article types:
•Overviews provide broad, relatively non-technical treatment of a core issue.
•Advanced Reviews are aimed at researchers and advanced students, surveying the literature in a fashion similar to a standard review journal.
•Opinions express a particular view on a topic that is under current debate.
•Focus Articles are more technical in nature, homing in on specific examples and implementations of research.
"Developmental biology is intrinsically interdisciplinary, combining embryology, cell biology, genetics, physiology, evolutionary biology, and more. Our affiliation with WIREs will help advance the SDB mission to foster excellence in research and education through communication of key advances in the field," said Ida Chow, Executive Officer of the Society for Developmental Biology.
"We have had a very positive response to the WIREs publishing model from the scientific community," said Sean Pidgeon, Wiley-Blackwell Vice President and Publisher of Life Science Review and Reference Works. "The launch of these two new titles will powerfully reinforce the role of the WIREs in promoting interdisciplinary communication and collaboration."
Access to both WIREs titles is free for the first two years. Register here.