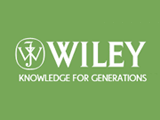 John Wiley & Sons, Inc., along with over 1,400 highly influential statistical organizations around the globe, is supporting The International Year of Statistics (Statistics2013 – www.statistics2013.org) to promote the importance of statistics to the broader scientific community, business and government data users, the media, policy makers, employers, students, and the general public. Wiley activities include sponsorship of a video contest and free access to a range of important statistics content.
Statistics – the science of learning from data and of measuring, controlling and communicating uncertainty – has powerful and far-reaching effects for society, yet most people are unaware how it improves their lives.
"As one of the world's leading statistics publishers, Wiley is supporting Statistics2013 to help increase public awareness of the power and impact of statistics on all aspects of society; nurturing statistics as a profession, especially among young people; and promoting creativity and development in the sciences of probability and statistics," said Kathryn Sharples, Statistics Publisher, Wiley.
Wiley is sponsoring the Statistics2013 video contest, asking that submitted videos illustrate how statistics impacts individual lives, improves society, or in general makes the world a better place; how statistical thinking can be brought to bear on important issues of our day; and how careers in statistics can be rewarding. Videos will be judged on both their statistical content and their entertainment value.
Additionally, throughout 2013, Wiley will be opening up a wide range of notable statistics content, with free access to over 150 classic journal articles and book chapters, free trial access to over 20 statistics journals, free issues of Significance magazine on the Signficance App, and frequently updated news and features about activities taking place as part of Statistics2013 on StatisticsViews.com:
Three Months of Free Access to over 20 Statistics Journals
Visitors to Wiley Online Library will be able to claim three months of free access to the January to June 2011 issues of all Wiley Statistics journals, which can be taken at any point during 2013.
Classic Journal Content
Four "Classic Content" virtual issues have been created which can be accessed freely throughout 2013. There are Virtual Issues from Statistics in Medicine, Biometrics, and The Journal of the Royal Statistical Society, and a cluster Virtual Issue containing classic papers from across the full Wiley statistics journal portfolio.
Classic Book Content
Visitors to Wiley Online Library will be able to make use of free access to 100 classic online book and eMRW statistics chapters for the duration of 2013.
Free Access to the Significance Magazine App
The Significance magazine App for iOS and Android will be freely available, featuring all 2013 issues of Significance.
Information on all of Wiley's activities supporting Statistics2013 is available at www.wiley.com/go/iys hosted on StatisticsViews.com, Wiley's new statistics information hub created for professional statisticians, analysts, students, and any user of statistics in interdisciplinary subjects as the first place to go when looking for any information related to statistical research.
"Wiley is proud to participate in this esteemed celebration, emphasizing the relevance and applicability of statistics worldwide," said Jon Walmsley, VP & Managing Director, Physical Sciences & Engineering, Wiley. "We are keen to support the endeavours of Statistics2013 to highlight the importance of statistics for all audiences."