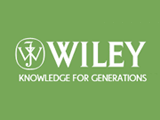 John Wiley & Sons, Inc., announced today the creation of a new role to lead open access. Rachel Burley has been appointed to the position of Vice President and Director, Open Access. In this new role Rachel will lead all aspects of the growth and development of open access publishing at Wiley. Working with colleagues, societies, funders, and academic institutions, she will facilitate the identification of open access opportunities and lead the development of products, policy, technology, processes, sales, and marketing initiatives necessary to provide first class support to authors.
Over the past 18 months, Wiley has expanded the range of options available to authors seeking to publish their research findings in open access journals. OnlineOpen, Wiley's hybrid open access option, has steadily expanded and Wiley Open Access, a series of fully open access journals, launched in early 2011. The Wiley Open Access portfolio includes eleven journals, with additional journals scheduled to launch later in the year.
These initiatives are enjoying significant uptake by authors, enabling Wiley to attract high quality research and develop new revenue streams to support publication. In addition, there is increasing interest among society partners, institutions, and funders who wish to investigate and support sustainable publishing options.
Rachel joined Wiley in 2007 as VP & Publisher for Current Protocols and subsequently assumed responsibility for a portfolio of life sciences journals. Prior to that, Rachel spent seven years with Nature Publishing Group in publishing and business development roles.
"Wiley is committed to expanding the open access options available to our authors and society partners in a sustainable manner that serves the scientific community," said Rachel. "I am looking forward to working with our authors, partners, and colleagues to develop and deliver open access products which provide exceptional author service and high visibility of the published research."
"As open access becomes increasingly important to authors and funders, we are exploring and developing options which will offer a wide range of sustainable publishing routes to suit all needs. Rachel's new role will allow us to strengthen and grow our progress in this area," said Steve Miron, Senior Vice President & Managing Director, Scientific, Technical, Medical, and Scholarly, Wiley.