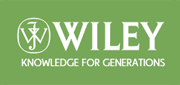 New Pages Provide Author Services, Publishing Guidance and Access to the Latest Research for the Chinese Research Community
Beijing, China. March 30, 2012 [Click here to read in Chinese] – Wiley-Blackwell, the scientific, technical, medical and scholarly publishing business of John Wiley & Sons, Inc, has launched a new series of life science pages on WileyChina.com. The pages, ranging across the life science spectrum, will make the website a key resource for Chinese scientists looking for the latest research, or for guidance in publishing their own results in international journals.
The new content will include free papers from leading international journals, features on Chinese journals and editors, Chinese-language author services and support, and new special themed pages each month, starting with climate change and plant science in March.
Each new page will feature a wealth of content. This month the pages include a new special collection of articles fromWIREs Climate Change which brings together 15 of the most significant papers related to the environmental issues highlighted by China's National Climate Change Program.
Two presentations in Mandarin have also been added to the Author Workshops page; Author Strategies for Successful Publication and Publication Ethics.
Following the launch of climate change and plant science in March, subsequent pages will include: proteomics in April, stem cells in May, biotechnology in June, ecology, conservation and aquaculture in July, food science and technology in August, microbiology in September, and earth and environmental science in October.
"Our WileyChina.com online community provides a place for us to share knowledge and tools to support the research and learning needs of Chinese life scientists," said Mike Davis, Vice President and Managing Director of Life Sciences at Wiley-Blackwell.