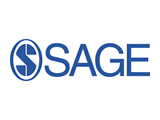 SAGE today announces the launch of Academic Pathology, a new open access journal that addresses the innovations in leadership and management of academic departments of Pathology. Sponsored by the Association of Pathology Chairs, the journal will begin publication in 2015.
The journal's Editor-in-Chief, James M. Crawford, MD, PhD, commented, "The Association of Pathology Chairs has taken a major step to help advance the trajectory of our discipline, by establishing the journal Academic Pathology. This journal seeks to cultivate rigorous scholarship in the leadership and management of the three academic missions of academic pathology – education, practice and research. We intend that such scholarship can promote the vigor of departments of academic pathology per se, enhance the posture of academic pathology in the pathology and laboratory medicine industry writ large, and help influence policy makers who will determine how pathology fits into the grander scheme of healthcare delivery."
Academic Pathology research will address methods for improving patient care; best practices in inter-professional, clinical partnerships across the globe; innovative pedagogical approaches to medical education and educational evaluation; models for training academic and clinical pathologists; improving administrative models that support the discipline; and advancing leadership development.
"This new journal will tie the academic community with health care providers and policymakers to give voice to the academic departments of Pathology," said Bob Howard, Vice President of Journals at SAGE. "SAGE has been proud to assist in the development of disciplines for nearly 50 years and we are delighted to do so now with the publication ofAcademic Pathology."
Academic Pathology Chairs' President Donald Karcher commented, "Academic pathology, in fact all of pathology, is changing rapidly.  As the Association of Pathology Chairs near its 50th anniversary, the Council gave high priority to creating a scholarly outlet that would support and encourage innovation in pathology practice, research, and education.  Academic Pathology is an important mechanism for communication to our members and, we hope, to the entire academic medicine community.  We are very proud of the editorial team we have assembled, which is a diverse and nationally-recognized group with wide-ranging expertise.  We thank SAGE for their collaboration."
To learn more, visit link.