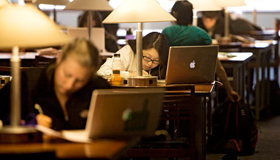 Leading scientific journals from Europe and the United States have started to groundlessly reject papers written by Russian scientists and postgraduates, according to some well-known researchers of the Russian Academy of Sciences and publishers of physics and chemistry magazines.
Scientists have said that in recent months, many Western journals have started to send back papers written by Russian scientists and graduates without conducting any review – and have speculated that this could be related to sanctions imposed against Russia.
Last month scientists from the Russian Institute of Problems of Chemical Physics claimed that the number of 'unjustified' refusals of their papers by international journals had significantly increased since June this year.
Paul Troshin, a leading researcher at the institute, said that international publishers had not even sent papers to reviewers, but had simply returned them to the authors. He described the current situation as similar to that in 2008, when due to conflict with Georgia, Russia had sanctions imposed by Western countries.
Case in point – Or off point?
Sergey Chapyshev, chief researcher at the Institute of Chemical Physics, said that several papers written by scientists at the institute had been rejected by the Beilstein Journal of Organic Chemistry and other journals.
He added that among the rejected papers were some co-authored with foreign scientists.
However, the journal's Editor-in-Chief Professor Peter Seeberger – director of the Max Planck Institute of Colloids and Interfaces in Potsdam, Germany, and professor of chemistry at Freie Universität Berlin – told University World News that the journal "welcomes and publishes high quality manuscripts from all countries".
"Its open access publications offer scientists unrestricted access worldwide."
The Beilstein Journal of Organic Chemistry, he said, was fully funded by the Beilstein-Institut, an independent non-profit foundation, and was therefore free to both authors and readers. "The criteria to accept or reject a manuscript are solely based on its scientific quality.
"Since our journal publishes articles of high quality, most of the submissions are indeed rejected. Our editorial team consisting of qualified scientists checks submitted manuscripts before starting a review process.
"If the scientific quality or novelty is not sufficient, a manuscript will be rejected either before or after peer-review. These are established procedures, which are also applied by other scientific journals," said Seeberger.
Russian journals wade in
But the claims by scientists were supported by Russian scientific journals.
According to Irina Machova, editor of Mendeleev Communications– produced in English by the Russian Academy of Sciences together with the United Kingdom's Royal Society of Chemistry – many authors had offered papers that were originally written for international journals.
In addition to refusals of publication, there have reportedly been increased numbers of refusals of Western grants for Russian scientists.
According to Vadim Tarasov, head of the department of pharmacology at IM Sechenov First Moscow State Medical University – one of Russia's leading universities – some Western grants that should have been provided to scientists at the university had been frozen after the start of the conflict in Ukraine.
This had also resulted in partial suspension of cooperation with Western partners in science.