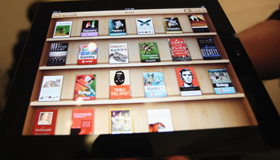 An effective means to creating programs that enable more efficient student learning, multimedia materials are settling in and becoming the driving force behind digital adoption in higher education. According to "eTextbooks and Multimedia in Higher Education," a recent report from publishing forecast firm Simba Information, the market for multimedia materials will post a compound annual growth rate of 42.7% from 2011-2015.
Defined as tools and content delivered via a technology-based platform that includes homework assignments, assessments, clickers, downloadable lectures and web-site access, multimedia materials were created to supplement the textbook and increase its value. The report finds this segment will represent 12.3% of the media used in college classrooms by the end of 2012, when compared with new and used textbooks.
"A majority of these materials are providing students with the tools needed for self assessment, to help them get through a class; they have more functionality than a textbook," said Kathy Mickey, senior analyst at Simba Information and author of the report. "At their current trajectory, multimedia materials will drive the acceptance of digital materials in the classroom."
Currently, publishers are experimenting with institutional licensing programs that include a package of e-textbooks and multimedia materials. According to the report, these licensing programs will enable a rapid adoption of digital materials as universities strive to get needed instructional materials to as many students as possible and publishers want to move away from traditional distribution channels encumbered by used books and textbook rental programs.
"Print textbooks will remain relevant for many years to come, although textbooks may shift to become a resource as opposed to a core material," said Mickey. "The concept of the textbook is changing; even e-textbooks will require more interactivity, bolstered with other multimedia materials in order to remain effective."
The report, "eTextbooks and Multimedia in Higher Education", examines the current penetration of e-textbooks and multimedia materials on college campuses and projects where they will grow through 2015. It provides comparative insight into the digital market penetration of select publishers, highlighting major players such as Pearson, Cengage Learning, McGraw-Hill and John Wiley & Sons. In addition, it delves into how e-textbooks are impacting traditional marketing and sales channels. It is available at: http://www.simbainformation.com/redirect.asp?progid=84134&productid=7114152