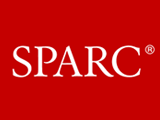 The Scholarly Publishing and Academic Resources Coalition (SPARC) today applauded President Obama for issuing a landmark Directive to ensure that the results of taxpayer-funded research – both articles and data – are made available to the general public to freely access and fully use.
The action today comes about after a ten-year campaign by the "Open Access" movement – scientists, universities, libraries, technology leaders, patient advocates, entrepreneurs, students, and every-day Americans – aimed at making taxpayer-funded scientific research freely accessible and fully reusable in a digital environment.
"This is a watershed moment.  The Administration's action marks a major step forward towards open access to scientific research," said Heather Joseph, Executive Director of SPARC, which works to broaden public access to scholarly research.  "The Directive will accelerate scientific discovery, improve education, and empower entrepreneurs to translate research into commercial ventures and jobs.  It's good for our nation, our economy, and our future."
"Knowledge is power.  It's the power to innovate, to advance scientific discovery, to promote economic growth, and to create jobs.  In 2013, we should be taking full advantage of the digital environment to disseminate the results of publicly funded research, not keep this knowledge locked away."
Every year, the federal government uses taxpayer dollars to fund tens of billions of dollars of scientific research that results in thousands upon thousands of articles published in scientific journals.  The government funds this research with the understanding that it will advance science, spur the economy, accelerate innovation, and improve the lives of our citizens.  Yet most taxpayers – including academics, students, and patients – are shut out of accessing and using the results of the research that their tax dollars fund, because it is only available through expensive and often hard-to-access scientific journals.
The potential economic benefits of opening up access to this research are estimated to be in the hundreds of billions of dollars.  In instances where this kind of open access has already been enabled, remarkable examples demonstrate how powerful open access can be.  Placing the Human Genome Project in the public domain, for example, enabled scientists everywhere to access the data.  The $3.8 billion investment in the project has had an estimated economic impact of almost $800 billion.
Details of the White House Directive
The White House Directive, affirms the principle that the public has a right to access the results of taxpayer-funded research and calls on all federal agencies with annual research and development budgets of $100 million or more to provide free and timely online access to the results of that research.  Articles reporting on the results of publicly funded scientific research must be made available after a 12 month embargo period.
The Directive builds on the progress made by the National Institutes of Health (NIH), the first federal agency to require public access to taxpayer-funded research.  Since its implementation, the NIH policy enabled more than 90,000 new biomedical manuscripts to be made publicly available each year, resulting in millions of Americans having access to vital health care information.  Demand for this information is extremely high, with more than 700,000 unique users accessing material from this repository each weekday.
The Directive comes as the bipartisan Fair Access to Science and Technology Research Act (FASTR), is making is way through the U.S. House of Representatives and Senate.
"The Directive is a major achievement for both open access and open government.  We should now take the next step and make open access the law of the land. We commend Senators Cornyn and Wyden and Representatives Doyle, Lofgren, and Yoder for introducing FASTR and call on Congress to pass it without delay," said Joseph.
To follow the conversation on Twitter use the hashtags #openaccess or #OA.  Media questions can be directed to @SPARC_NA or sparcmedia@arl.org.