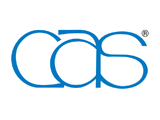 Chemical Abstracts Service (CAS), the world's authority for chemical information, registered the 100 millionth chemical substance in the CAS REGISTRY, in the 50th anniversary year of the world's largest database of unique chemical substances.
With a steady increase in patenting activity around the globe, it is not surprising the 100 millionth small molecule registration comes from a patent.  In this case, the substance was reported in a World Intellectual Property Organization (WIPO) patent (WO 2015081280) from Coferon, Inc. (Coferon) in Stony Brook, NY.  The inventors claim the molecule, CAS RN 1786400-23-4, available in both SciFinder® and STN®, is a novel therapeutic designed to treat acute myeloid leukemia.
"Coferon is developing proprietary biorthogonal linkers for multiple therapeutic approaches, said Dr. Maneesh Pingle, vice president, operations & business development. "A particular focus is on novel silicon-based linkers such as in the recently registered molecule CAS RN 1786400-23-4. The CAS REGISTRY is an invaluable resource for scientists in academia and industry, and the research team at Coferon is delighted that the 100 millionth small molecule to be registered in the database was invented at Coferon."
From a humble beginning to a mainstay of chemical discovery
Started in 1965 as a project to uniquely identify and track chemical substance information, the CAS Registry system is the only complete and accurate source of unique identifiers, known as CAS Registry Numbers for all organic and inorganic substances disclosed in scientific publications and other reputable sources.  Today, scientists, intellectual property professionals and compliance specialists around the world rely on CAS Registry Numbers to instantaneously identify and access the exact chemical needed for their research, safety and compliance needs.
The invention of CAS REGISTRY revolutionized the chemical information field and transformed research since the mid 60's, and CAS Registry Numbers are ubiquitous in mainstream society today.  Global regulatory organizations, including the United States Environmental Protection Agency and The ACT on the Registration and Evaluation of Chemicals regulatory body in Korea, require all new chemical substances manufactured or imported to be identified by a CAS Registry Number.  These are also used on Materials Safety Data Sheets (MSDS) around the world as a reliable resource for safe handling and transport of chemicals.  CAS Registry Numbers are found on consumer products we use, e.g., paint cans and shampoo labels, and are relied upon in numerous web information sources, including chemical suppliers sites, Wikipedia, PubChem, and ChemSpider, to provide the one unique key that can open the world of information about that substance.
The substantial growth in worldwide chemical discoveries over the past 10 years is reflected in CAS REGISTRY as shown in Figure 1.  A view of all substances added since 1965 shows the pace of research has significantly accelerated in the past ten years.  Of the 100 million substances in CAS REGISTRY, approximately 75 million were added over the past 10 years.  On average, CAS has registered 1 substance every 2.5 minutes over the past 50 years.
Figure 1:  Growth in the CAS REGISTRY over 50 years
"During the past 50 years, CAS investments in technology facilitated our capacity to define and sustain industry-leading timeliness in delivering vital chemical information to researchers around the world," said Dr. Matthew J. Toussant, CAS senior vice president, product and content operations.  "In the early years of CAS REGISTRY, substance information was stored on index cards and later defined as a notation system using linear algebraic codes that could be stored on punch cards.  Now, of course, our fully electronic technologies and optimizations enable us to keep pace in analyzing these rapidly increasing chemical disclosures, as well as in delivering nearly instantaneous access of this information to researchers worldwide."
With no signs that chemical innovation is slowing, the current pace of substances added to CAS REGISTRY over the next 50 years would suggest registration of more than 650 million new chemical substances.  If the past growth trajectory is any indication, that number may well be significantly higher.
What does the future hold for the pace of new scientific discoveries?  "Researchers around the globe are leading the way," said Toussant.