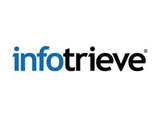 New Interface and Executive Dashboard Provide Information At-a-Glance
Infotrieve, Inc., the global leader in e-content business service solutions, today announced the latest release of its Mobile Library™ e-content access and management software. Mobile Library 6.0 brings a completely redesigned user interface offering a sleek and intuitive browsing experience for end users. A new welcome page has been designed as a fully customizable centralized portal providing one-click access to database search functionality, internal and external resources, useful links, and RSS feeds.  To further streamline the user experience, enhanced search functionality explores all available content types simultaneously, including journals, books, patents, conference proceedings and more. A newly released Executive Dashboard provides a detailed on-demand view of enterprise-wide content usage, offering users a unique perspective into access history and usage trends that can be used to impact licensing, subscription planning and spend. Japanese language support has also been added to Mobile Library's foreign language portfolio.
"The long list of exciting improvements found in our Mobile Library 6.0 release are all based on substantial customer feedback," said Ken Benvenuto, President and Chief Executive Officer of Infotrieve. "Whether it's updating the design and navigation, enabling usage-based licensing by tracking content access or extending language support, we are dedicated to continuously improving Mobile Library to best serve the needs of our clients."
Infotrieve designed Mobile Library 6.0 almost exclusively around customer commentary. A common thread emerged from many hours of direct one-on-one discussions between Infotrieve's senior management team and its client administrators and end users — the need to further improve the efficiency of research. Those conversations served as the framework for the platform redesign, complete with user-friendly terminology, intuitive content finder, streamlined workflows and sleek interface.
Infotrieve's Mobile Library offers fully secure, cloud-based anywhere, anytime access to all enterprise information assets.  Leveraging Infotrieve's "borderless office" technology, users can seamlessly switch between their desktop, laptop, iPad or smartphone without skipping a beat, as their workspace is automatically synchronized across devices.  As a flexible e-content software solution, the Mobile Library can serve a variety of customer needs, from easy searching and ordering of pay-per-view content, to a comprehensive rights management solution integrated with shared libraries and social features.  The Mobile Library was initially launched in September 2010 as an update to Infotrieve's award-winning content access and management solution that has more than 400,000 users from more than 8,000 organizations in over 110 countries.