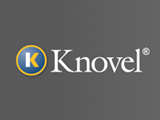 Knovel, today announced a banner year for content growth, including a record 23 percent increase in content across all subject areas. Additionally, each of the 30 subject areas available grew by at least 15 percent. The selection process for new titles, charts, graphs and equation assets was based on direct feedback from Knovel's active community of engineers and other professionals.
This feedback led to the addition of three entirely new subject areas in 2012. Knovel also continued its brisk pace of development in Knovel's Critical Content line exclusively available to its customers. Knovel's interactive objects available via charts, graphs and equations now exceed 100,000. This significant growth in content complements Knovel's breadth of offerings aimed at helping engineers solve both big challenges and everyday tasks.
"Many engineers are incredibly frustrated with the research dilemma they face on a daily basis. They either spend significant time searching through multiple sources to find validated information or take their chances using public search tools that offer information of questionable validity," said Knovel CEO Chris Forbes. "Knovel offers engineers a single point of access to the technical references they demand, and our focus on the needs of engineers has driven a significant expansion of the engineering resources available through Knovel."
With the recent addition of two publishing partners, Thieme and ASQ, Knovel added a total of nine new publishing partners in 2012. This expands Knovel's international sources of content and rounds out a roster of partners to more than 100 authoritative sources. The American Society of Civil Engineers (ASCE) and the Society of Manufacturing Engineers (SME) are also among the partners added in 2012.
While Knovel sources a majority of content from its publishing partners, the company also strategically works with credible sources and renowned experts to create content that fills gaps in engineering information resources. The resulting work is added to Knovel's Critical Content line.
"One of the biggest research issues engineers face is finding reliable data for very specific questions related to material selection," said Knovel Senior Vice President and Co-founder Sasha Gurke. "We created Knovel's Critical Content line to identify and provide the data that engineers need but is not easily accessible."
For more information about Knovel, please visit http://why.knovel.com. Existing customers can talk to their account services representative about new content available and subscription options.