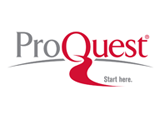 ProQuestFlow™, a cloud-based research management solution, has released an add-on to interoperate with Google Docs. The new add-on expands the collaborative writing capabilities of Google Docs by integrating the document management tools of Flow during the authoring phase of research. As a result, researchers can find, share and annotate documents in the cloud, then author as a team in a common virtual workspace, supported by automated citations and bibliographies. The free add-on is available in the Google Add-on Store.
"Our goal is to integrate research and citation management into every phase of the research process, from the point a resource is discovered and needs to be stored and organized through to the writing of new papers," said Michael Hirsch, ProQuest vice-president, product management. "This add-on for Google Docs is a great example of how Flow is doing that. We've turned separate steps in the research workflow into a more streamlined process that saves time, reduces the potential for errors and eliminates confusion."
Launched in 2013 by the creators of RefWorks®, ProQuest Flow enables students and researchers to read, annotate, organize, and cite their research, as well as collaborate with friends and colleagues by sharing collections. The Google Docs add-on integrates Flow's document management tools during writing sessions. Collaborators' document collections are accessible via a right-navigation pane within the Google Doc, making them visible while team members author papers, eliminating the need to toggle between screens, tools and notepads. The add-on's selection of 3,000 output styles also simplifies the creation of bibliographies and citations.
Like RefWorks, Flow is designed to keep libraries at the hub of university research with an institutional subscription that's delivered via an easy-to-use platform requiring no installation. Popular among university students, Flow is also attracting a following among librarians for its ability to provide copyright protection and real-time analytics. Subscribing libraries can tap aggregate usage data to uncover research trends and patterns as well as insights into which resources are getting the most use. In addition, institutional subscriptions enable libraries to offer a premium service to their users, including a remarkable 10GB of storage per user, unlimited collaborators, training options that advance user skills and personal support.
The announcement of the add-on for Google Docs comes on the heels of Flow's integration with the Summon® service, the most popular discovery technology among members of the Association of Research Libraries (ARL). Interoperation of the Flow and Summon services enables students and faculty to instantly save and organize content from their library at the point of discovery, eliminating handling, processing or possible loss of important information. Integration at the point of discovery via the Summon service and support of the authoring phase with the Google Docs add-on enables Flow's powerful document management tools to be incorporated across the entire research workflow, simplifying the research experience.