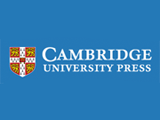 Former Publishing Director, Global Academic Publishing at Oxford University Press to start her new role in September.
Cambridge University Press has appointed Mandy Hill as the new Managing Director of Academic Publishing at Cambridge University Press. She will take up the new post in September.
Cambridge University Press Chief Executive, Peter Phillips, commented: "Academic publishing has always been at the heart of the Press. Our mission is to advance education, learning and research around the world and our academic business has stood true to that mission for centuries. For scholarly publishing, it is a time of huge opportunity and change. Fundamental questions about the generation and dissemination of academic research, about modes of access to that research, and about the nature of peer review are challenging universities, libraries, scholars and publishers too. I am confident that Mandy has the vision, ability and track-record to lead academic publishing at the Press as we move into an exciting and challenging new publishing age."
Mandy has over 20 years experience in academic publishing and has worked at Oxford University Press since 1998. Having joined as a publisher for medical journals, she was promoted to Editorial Director for Oxford Journals in 2006 and then Editorial Director for Science and Medicine (books and journals) in 2008. For the past four years, Mandy has served as Publishing Director of the Global Academic Publishing Group at Oxford, managing the editorial programmes for their academic books and journals across STM, humanities, social sciences, and law.
Prior to joining Oxford, Mandy worked at Elsevier and a medical communications agency. Mandy sits on the ALPSP Council, the Publishing Board of the Royal Society and is a Foreign Consultant for China Book International.
Speaking about her appointment, Mandy said: "I am thrilled and honoured to be entrusted with leading the Academic group at the world's oldest publisher. Cambridge has earned worldwide renown for its excellence in academic publishing and, at a time when the industry is experiencing a huge degree of change, I look forward to working with colleagues to build on what has already been achieved and ensure that the Press continues to be at the forefront of global academic scholarship."
Mandy will be taking over her new role from Richard Fisher, who will be leaving in December after 30 years at the Press.