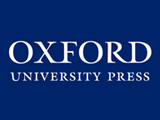 Oxford University Press (OUP) was again named Publisher of the Year at a Booksellers Association award ceremony on Wednesday 13 March.
It was the eighth time in nine years that OUP collected the Publisher of the Year award at the Conference for Academic, Professional & Specialist Booksellers Awards Ceremony.
The awards are judged by booksellers and Bookseller Association members working in the UK who score publishers throughout the year.
Categories focus specifically on the services being offered to booksellers by publishers such as rep support, engagement with bookshops, which publishers give reasonable terms to booksellers, publishers' websites, support from central or head office services, delivery turnaround times, and publishing.
Chris Holmes, Head of UK Retail & HE Sales, said: "We feel very privileged to receive the Publisher of the Year for the eighth time. It demonstrates that our efforts to support the bookselling industry continue to have a positive impact, and we are very pleased with the result."