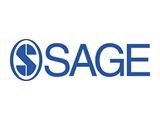 SAGE, the world's leading independent academic and professional publisher, today reported a strong performance across its journals portfolio in the 2012 Journal Citation Reports® (Thomson Reuters, 2013) with an increase of 30 indexed titles on prior year to 461 across both the Social Science (SSCI) and Science (SCI) Citation Indexes.
Over the last five years, SAGE has experienced consistent growth in its coverage in the reports, with the increase in the number of JCR-indexed journals exceeding 60%. 52% of SAGE-indexed titles are now ranked within the top two quartiles of their JCR subject categories and 102 titles have achieved a top-10 category rank.
Eight titles have a top #1 category rank including American Journal of Sports Medicine(4.439), Child Maltreatment (2.589), Gender & Society (2.000), International Journal of Robotics Research (2.863), Journal of Consumer Culture (2.793), Journal of Management(6.704), Personality and Social Psychology Review (8.195), and Review of Educational Research (4.229).
Six SAGE titles were awarded their first Impact Factor. A particular highlight includedEmotion Review, a recent SAGE launch published in association with the International Society for Research on Emotion, achieving a first impact factor of 1.894 placing it in the top quartile for Psychology, Multidisciplinary.
Within the Social Science Citation Index (SSCI), SAGE maintained a strong position across all subject categories with 256 journals ranked in the top two quartiles of their JCR subject categories.  Particular 2012 highlights (achieving the highest number of total cites in their respective categories) were American Sociological Review, Social Studies of Science, andTheory Culture & Society.
Within the Science Citation Index (SCI), SAGE continues to significantly grow its coverage adding 18 titles to the 2012 release representing 13% growth on prior year and 77% growth over the last five years. Highlights include The Neuroscientist, which increased its impact factor to 5.633, Multiple Sclerosis Journal, which increased its impact factor to 4.472, andJournal of Dental Research, which both increased its impact factor to 3.826 and achieved the highest total cites in its subject category.
"We are delighted to see the strong performance and progress that SAGE journals have made as a result of the efforts and dedication of talented editorial teams, said Ziyad Marar, Global Publishing Director, SAGE. "Whilst the JCR is seen as an indicator for academic quality, with a sense of 'occasion' around the publication of the results, it is not the only measure and SAGE has long acknowledged the need to consider other measures of journal quality for a richer picture. As our publishing landscape evolves, we remain committed to improving and adapting our services to ensure that we continue to support the appropriate markers of quality for our editors, authors and society partners."