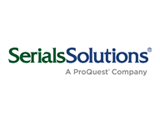 Serials Solutions®, a ProQuest® business, announced Kevin Stehr as the new Vice President of Global Sales. In this role, Stehr will drive business growth through customer acquisition, retention and overall client satisfaction. Stehr will develop strategic operations plans and sales strategies to enhance customer experience and ensure a customer-centric approach to business.
"Kevin's progressive career path includes strategic leadership, business analysis and customer relationship management," said Michael Gersch, senior vice president and general manager of Serials Solutions. "His track record of high performance, cross-functional collaboration and talent development will contribute to our growth strategy – and we are delighted he is joining our team at such an exciting time for the company."
"Serials Solutions' market leadership and reputation for exceptional products and superior customer service are just a few of the reasons I'm attracted to this opportunity," said Mr. Stehr. "I'm looking forward to developing a strategy that will leverage the company's heritage and new solutions like Intota."
Prior to joining Serials Solutions, Stehr held various senior sales and strategy positions for LexisNexis. Most recently he was Vice President of Sales for LexisNexis Litigation Software, Hosting & Professional Services, where he repeatedly drove double digit growth and was responsible for technology and services supporting improved client workflow across multiple markets. Prior to assuming this role, Stehr was responsible for research content sales, as well as multiple leadership roles in the organization including Vice President of Strategic Planning, where he managed the company's strategic direction, which focused on meeting the needs of its customers in the evolving practice of litigation. Stehr was recognized with the CEO Senior Leadership Excellence Award, Circle of Excellence award and was behind two patents for innovations that have generated $26 million in revenue.
Prior to joining LexisNexis, Stehr was a senior trial attorney for the U.S. Department of Defense, as well as a Special Assistant U.S. Attorney for the U.S. Attorney's Office, Western District of Washington. His work focused on litigation with an emphasis on representing the interests of the federal government in administrative, as well as federal court proceedings.
Stehr holds a BA in Political Science from University of Kansas, a JD from University of Missouri and is a graduate of the Advanced Management Program at Harvard Business School.