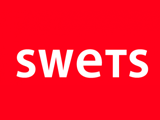 Swets is pleased to announce the appointment of Adam Gardner as its new Commercial Director UK&I, ME & A. Adam joins Swets from CABI, where he held the position of Publishing Sales Director, responsible for the global sales and customer service departments for CABI's extensive range of databases, full text, print and eBooks content.
"Adam is a well-respected member of the publishing community. He brings with him an excellent understanding of our industry and the commercial challenges and opportunities currently available to Swets," said Michael Leuschner, Commercial Director EMEA at Swets. "His insider knowledge of the publishing market, coupled with a proven record at devising, developing and successfully executing sales strategies by geography, product and sector will be of great benefit to our organization. His exemplary leadership skills will undoubtedly help us to implement and succeed in our strategic and commercial goals for the UK&I, ME & A regions."
"I have known Swets for many years and have observed the company transform and relaunch itself with new family members," said Adam. "I have admired the way in which the company now presents its services to the outside world and am excited to now be a part of that transformation."
Working out of Swets' UK office in Abingdon, Adam's role will see him take responsibility for the commercial activity for Swets in the United Kingdom and Ireland, as well as the Middle East and African regions. His background includes a decade of Sales Manager experience within the academic publishing sector, working both at CABI and Ovid – a Wolters Kluwer business. He holds a PhD from the University of Cambridge and is an active member of the UK Serials Group, Association of Learned and Professional Society Publishers and STM Publishing groups.