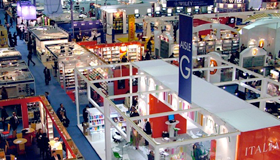 The London Book Fair and The Korean Publishers Association have announced Korea as the Market Focus of The London Book Fair 2014.
The launch event at Asia House today was attended by The London Book Fair, The Korean Publishers Association and LBF Market Focus strategic partners, the British Council and The Publishers Association of the UK, alongside representatives from UK and Korean publishing industries.
The London Book Fair Market Focus is a key opportunity for UK and international publishers to liaise with their foreign counterparts, and seek out and capitalise on new business partnerships. As such, the Korea Market Focus will have an extensive professional programme of events and publisher meetings, organised by The London Book Fair, in association with The Publishers Association. These events will highlight business opportunities with Korea and its importance to the business of international publishing.
As in past years, the Market Focus programme will be supported by an exciting series of cultural events across the UK, both within the book fair and outside, featuring visiting Korean authors, curated by the British Council, the UK's leading cultural relations organisation. This associated cultural programme, which runs in partnership between The London Book Fair and the British Council, will place a spotlight on contemporary Korean authors and literature.
Eric Yang, The Korean Publishers Association, said:
"We are very excited and honored that Korea has been invited to London Book Fair 2014 as the Market Focus Country. The London Book Fair is a prominent international trade fair providing the publishers around the globe with an arena to get together, exchange ideas, and friendship, as well as to be actively engaged in business activities between the East and the West and also many different kinds of languages. Copyright deals happen every minutes.
KPA members and staff preparing for the Korea Market Focus at London Book Fair 2014 are sparing no efforts to make it a great opportunity for the publishers from across the world to experience and explore Korea through a variety of cultural events, seminars and special programs. KPA will support and prepare well during next two years with the Publishers Association (UK) and British Council and the Korean Culture Council in London and Seoul.
I hope 2014 Korea Market Focus will be a successful one and London Book Fair to continue to establish its status as the world's most renowned book fair."
Amy Webster, Market Focus Director, The London Book Fair, said:
"The London Book Fair is delighted that Korea will participate as the Market Focus country in 2014. Korea is a fascinating part of the world with a thriving literary scene and, as a top 10 publishing market, it is increasingly important for the international publishing community. We look forward to delivering an exciting professional and cultural programme around Korea Market Focus, in partnership with The Korean Publishers Association and UK partners The British Council and the Publishers Association (UK)."
Susie Nicklin, Director Literature, British Council, commented:
"With the winning of the Man Asian Literary Prize in 2011 by Kyung-sook Shin and the longlisting this year of Young-Ha Kim, Korean literature is now firmly on the international stage. British authors are enjoying increasing success in Korea; the London Book Fair Market Focus in 2014 will be an ideal opportunity for writers and literary professionals from both countries to forge closer connections and to exchange ideas and inspiration."
Emma House, Trade and International Director, The Publishers Association, said:
"Korea is an important market for translational rights sales for UK publishers as well as for export sales, with a 15% growth of UK book exports over the last three years. We are pleased that it will be the London Book Fair's Market Focus country in 2014 as this will present a valuable opportunity for both British and Korean publishers to develop trade links and increase their understanding of each other's business environments. We look forward to welcoming Korea at the London Book Fair in 2014."
Korea has a population of almost 50m and 98% literacy rate. It has one of the top ten publishing markets in the world with a minimum retail market size of UK £2.5 billion. In 2010, over 10,500 translated titles were published in Korea, some UK £218 million, with Japan, US and UK make up 77% of the total translated titles. The education publishing market is worth at least £0.69m. The Korean Publishers Association organised Korea's guest of honour programme at Frankfurt Book Fair in 2005 and also at Bologna Children's Fair in 2009.